Trieste is a vertical jolt between the Karst and the sea, a free fall when the train emerges from the tunnels, and a jolt after the Padan boredom if you take the coastal road by car. .
This is how Cristina Battocletti describes Trieste in an article in Sole 24 Ore in 2017.
And this surprise effect is exactly what strikes you when you arrive from Monfalcone by train or by car.
Along your journey, the province of Trieste welcomes you to the Municipality of Duino Aurisina, a place where the sea and nature intertwine to offer many different experiences.
In this area, unique in its natural characteristics, you can enjoy the panorama of the coastal area of Duino, or the inland scenery that dominates it from the top of the Carso's cliff. Whether you are a sea or mountain type, we can suggest some interesting ideas beyond the more classic city tourist itinerary.
Between culture and relaxation: the Duino coast
Not everyone knows that before reaching Miramare, there is the castle of Duino with its park that dominates the sea from above, linked to one of the many legends that we will tell you about soon in this blog. It was the private residence of the Princes of Torre and Tasso and can be visited today, along with its small museum. But beware: legend has it that the spirit of the White Lady still wanders among the walls of the old castle perched nearby, in search of peace!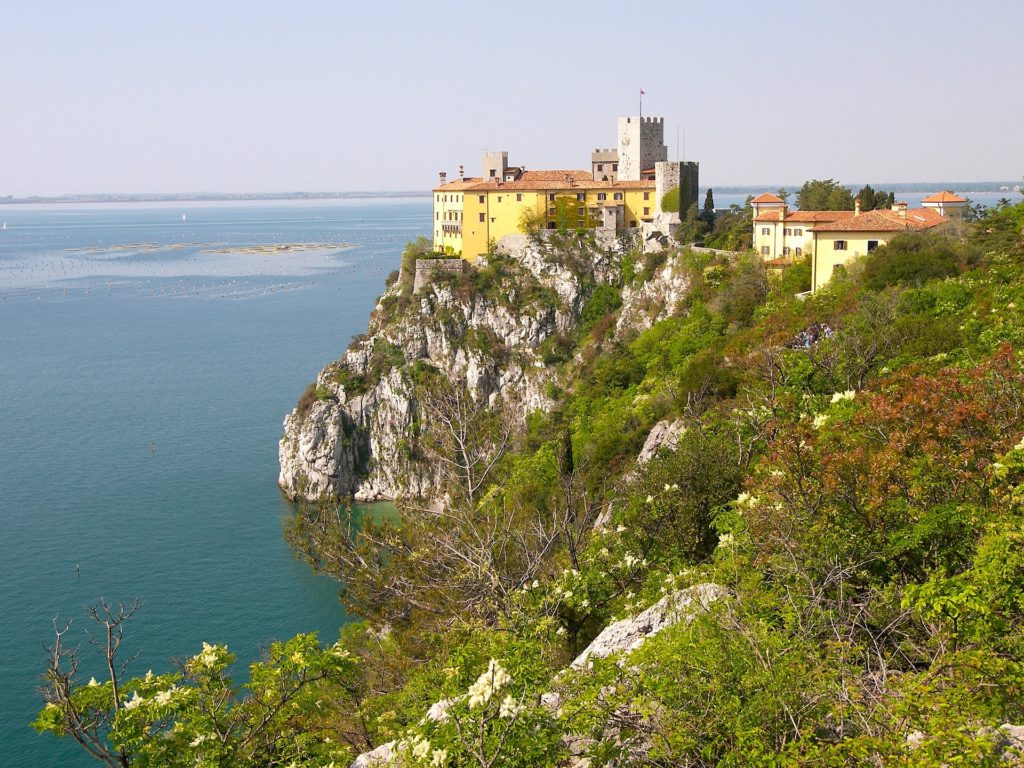 The castle had illustrious guests, from Sissi to D'Annunzio and, among them, the poet Rainer Maria Rilke. A path overlooking the sea is dedicated to Rilke: a walk, unforgettable and spectacular, that he used to take regularly, right when he began to write The Duino Elegies. The path goes up, at the beginning of the road that leads to the sea of Sistiana, and runs along the very steep cliff, until it enters the woods. At the end of the walk, you reach the castle of Duino.
The Bay of Sistiana is the real moment of relaxation on the coast. Here you will find several beach resorts and enjoy the beach. Those who want to continue exploring have an embarrassment of choices: they can opt for an excursion on the seabed or move a few kilometres to the Fisherman's Village and visit the paleontological site with the dinosaurs Bruno and Antonio.